The time to confirm the reservation has expired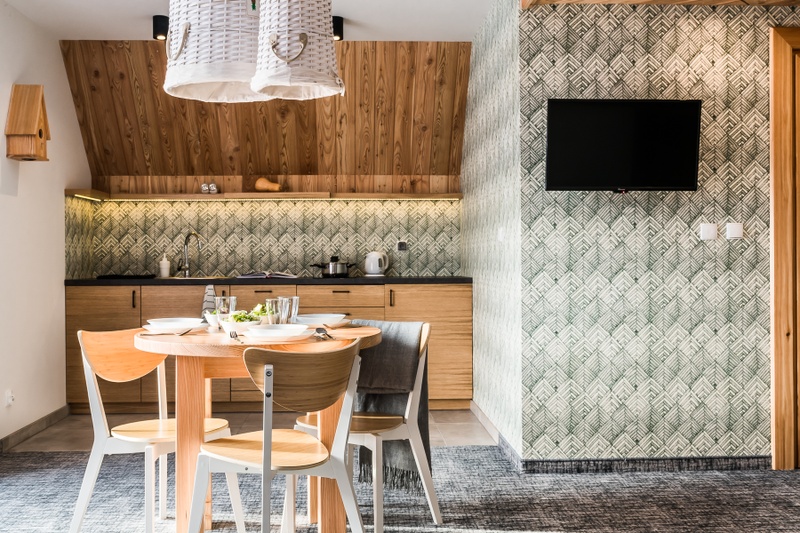 About place
6 comfortable apartments with a beautiful view of the mountains invite you all year round. It is worth going to the nearby Antałówka, skiing, crocuses or organizing a snowball fight.
Meet the place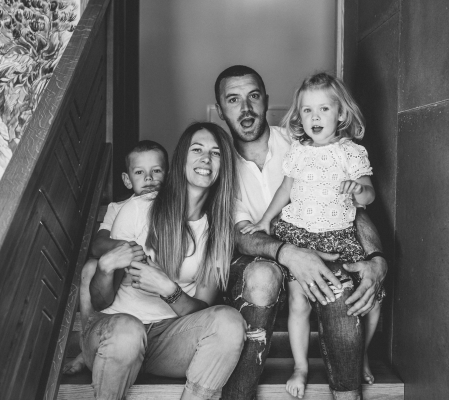 Agnieszka
My husband is a native highlander, I'm a Zakopianka. We have always dreamed of building a house in the mountains and sharing our passions with others. This unique place, full of good energy, was created out of a passion for carpentry - all the wooden elements were made by the owner with attention to every detail. For the love of the mountains and climbing, a boulder was created, i.e. a place where you can climb on an artificial wall under which thick protective mattresses are placed. I am a ski instructor, I love skiing and from an early age I taught Stefcia and Kubuś (our two full of energy kids), so I know that facilities such as a ski room and ski boot dryers are essential. In turn, the children inspired us to create a playground outside and a play corner with a TV room (parents can sit comfortably in front of the TV or read a book while the kids are playing). Kasia, our architect friend, helped us combine the elements of Zakopane architecture with modern details while maintaining minimalism and cosiness. We cordially invite you to visit us!
Offer
To be paid now

Paid by the Slowhop system

600 pln

To be paid later

600 pln

Total price for the stay

1,680 pln

1,200 pln
Apartament 2-osobowy deluxe z aneksem kuchennym i łazienką, jedno łóżko podwójne i sofa.
Terms and cancellation rules
Cena obejmuje wynajem apartamentu, bezpłatne korzystanie z bulderowni, placu zabaw dla dzieci i pralki, miejsce parkingowe , WiFi. Posiłki trzeba przygotować we własnym zakresie i oczywiście możemy polecić Wam miłe restauracje w okolicy (oddalone 5 minut na nogach). Przy przyjeździe będą czekały na Was pościelone łóżka i ręczniki. Lepiej przywieźć ze sobą własne kosmetyki. Przedpłata jest bezzwrotna.
Doba hotelowa w dniu przyjazdu rozpoczyna się o godzinie 16, w dniu wyjazdu należy zwolnić apartament do godziny 10 rano.
W dniu przyjazdu pobieramy również opłatę miejscową 2zł od osoby za dzień.
Zastrzegamy sobie prawo do pobrania opłaty kaucyjnej w wysokości 500zł, jako zabezpieczenie apartamentu. Depozyt jest zwracany w dniu wyjazdu w pełnej kwocie, jeśli w apartamencie nie wyrządzono szkód.
Przedpłata jest bezzwrotna. Pozostałą część opłaty możecie zapłacić u nas na miejscu gotówką lub kartą. Wpłata zadatku oznacza akceptację regulaminu dostępnego na stronie www.cubrynka.pl
Gdybyście mieli jakiekolwiek pytania dajcie znać!
Agnieszka
tel. 503328878.