The time to confirm the reservation has expired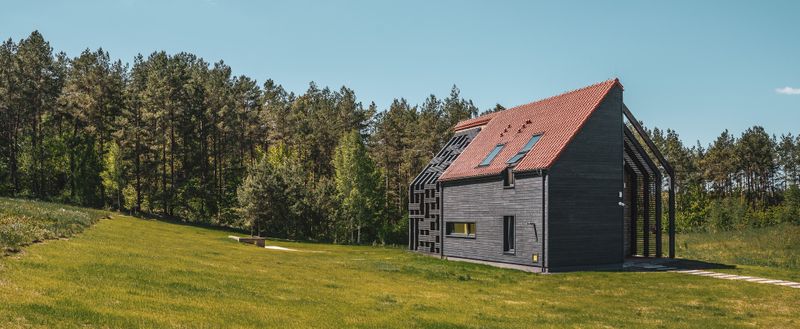 Okno na spokój
Śniadowo 34, 11-700 Śniadowo (gmina Mrągowo)
Route
We 27 Oct 2021 - Sa 30 Oct 2021 (3 nights)
Okno na spokój - dom na wyłączność (2 ppl.)
About place
House in Śniadowo in the land of 1000 lakes, with windows overlooking the forest. Peace of mind not only in the name, Masurian nature at your fingertips. Comfortable for 8 people, cozy for a getaway for two.
Meet the place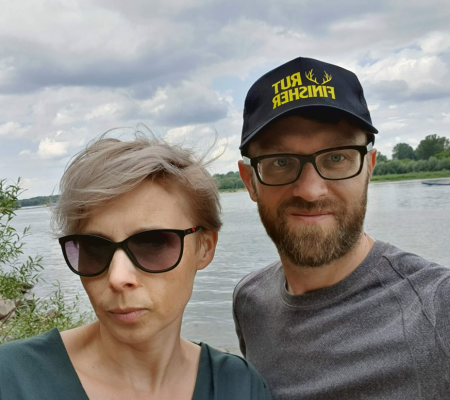 Agnieszka i Marcin
A runner who has already crossed more than one lake here and knows the best paths around Mrągowo (he has set up quite a few segments and will be happy to tell you where to practice running uphill and where to do intervals) and a walker who watches birds and wild animals from her terrace in the forest and glades. For a long time, Masuria meant for us the wind in our sails, the splash of water against the side and a night at the pier. Then we became enchanted with a quiet lake Juksty and a secluded glade, where birds treble and the clangour of cranes (until they fly away) are the background music. And in this clearing, we built Okno na spokój (Window on Peace).
Offer
To be paid now

Paid by the Slowhop system

1,500 pln

To be paid later

0 pln

Total price for the stay

1,650 pln

1,500 pln
Masz ochotę na urlop w środku tygodnia lub pracę zdalną przy kominku z widokiem na las?
Zapraszamy

Oferta obejmuje wynajem całego domu na wyłączność na 3 doby - dla 2 osób.
Dom ma 112 m 2, perfekcyjnie wyposażoną kuchnią, saunę fińską i salon z ogromną kanapą i kominkiem oraz z tarasem z widokiem na las.

Dom stoi na sporej posesji, na polanie. Do jeziora Juksty jest ok 300 metrów. Wieś jest spokojna, a okolica oferuje sporo tras rowerowych lub spacerowych.
Cena obejmuje także sprzątanie końcowe, polana do grilla, korzystanie z sauny i wszystkiego, co się w domu znajduje. Po przyjedzie będą czekały pościelone łóżka, ręczniki. Kosmetyki przywieźcie proszę ze sobą.

Nie gościmy zwierzaków.

Jeśli interesuje Cię pobyt dla innej liczby osób, lub na pobyt o nieco innym terminie - daj proszę znać wiadomości - przygotujemy indywidualną wycenę/ofertę.
Terms and cancellation rules
Rezerwację będziemy traktować jako potwierdzoną po wpłacie zadatku.
Dokonanie rezerwacji poprzez przelew jest równoznaczne z zapoznaniem się i akceptacją zasad rezerwacji i pobytu opisanych w regulaminie dostępnym tutaj: regulamin.oknonaspokoj.pl

WARUNKI związane z COVID:
W PRZYPADKU CAŁKOWITEGO LOCKDOWNU, "NARODOWEJ KWARANTANNY" LUB ODGÓRNEGO ZAKAZU PRZEMIESZCZENIA SIĘ - ZWRACAMY CAŁY ZADATEK, BEZ DODATKOWYCH WARUNKÓW I BEZ ZWŁOKI.