It's Wednesday, March 8, 1950. The first Transporter Camper Van rolls off the Volkswagen assembly line – one of the most beautiful passenger cars in automobile history. With its rounded shape and generally appealing appearance, the van not only quickly gains loyal followers but also revolutionizes family tourism. Just 18 years later, a year after the last millionth copy of the T1 leaves the German factory, The Who records the song "Magic bus" about a car loved by hippies and surfers:
[...] Now I've got my Magic Bus, I drive my baby every way, Each time I go a different way [...]
It's Thursday, April 9, 2020. While sitting at home during quarantine, we feel obliged to tell you about true freedom. About sleeping under the stars, crossing borders, breakfasts with a view and dinners with a different view, naps on the roof, on the beach and in the forest and the warm feeling in your heart when you park on a cliff and hear the sound of rain hitting the roof of the van.
Seventy years after the first Transporter emerged on the market, a house on wheels is still a dream for hippies, millennials, travelers and those who desire unfettered travel and a home whose scenery changes all the time. And although groovy flowers are now a rather uncommon symbol of the subculture, transporters and van life are still doing great and Volswagen even already announced the release of its new electric version.
We have to warn you right away – don't expect giant white RVs, plasma screens on the wall, on-board computers and remote controls. To drive a Slowhop van, all you need is a basic license, because in the light of the regulations, driving (and parking) such a steed is no different from driving a car.
We'll also let you know about tourist toilets, outdoor showers, essentials for campers and all the gadgets that even we didn't know about. And one more thing: we had a great time writing about Slowhop motorhomes for you.
You can take them anywhere you want!
PS. All Slowhop motorhomes can be found here.
---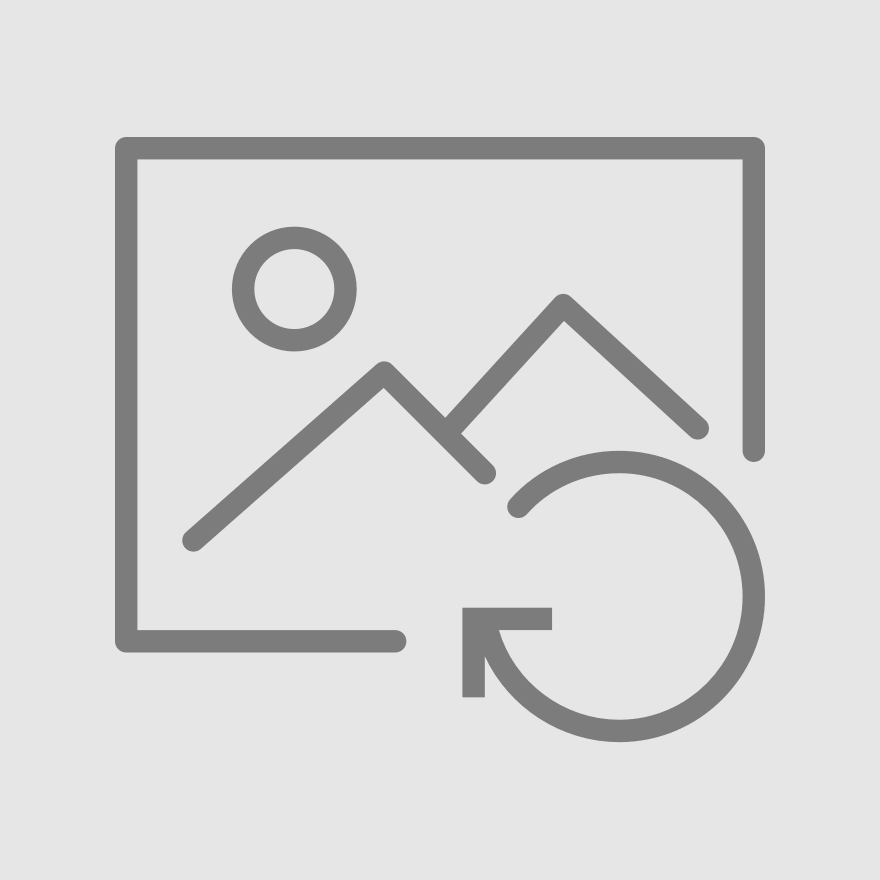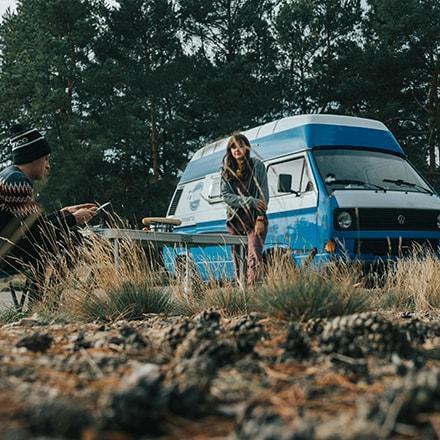 We have four campervans here, each with its own name. The story is that Magda and Kuba wanted to have their own house on four wheels, for short and long journeys, and went above and beyond making their dream a reality. We're happy about that because now you can rent Freddie (named after Freddie Mercure), Lemmy, Kurt or David, i.e. decked out Vw T3 vans for two or three travelers. These vans saw the world a little, they were already in Scandinavia, they visited Sweden and Denmark, and in winter they like to ride over to Slovakia. Brothers Freddie and Amy are powered by gas (apart from gas heating, there is also a stove and fridge), while Lemmy and Kurt draw energy from solar panels, and the stoves are on cartouches. If necessary, Magda and Kuba will add an inverter to the van, but you have to remember that it's for charging a laptop, rather than drying your underwear with the hairdryer. T3s do not have a toilet, but if you want to raise the standard by one star, the hosts will let you rent a toilet tent, shower and chemical toilet. Or they'll just throw in a shovel ;). If you are planning a trip with a child, choose Kurt, which has three seats in the front and a mattress for children (also can be used by adults. You can bring your pet with you for no extra charge.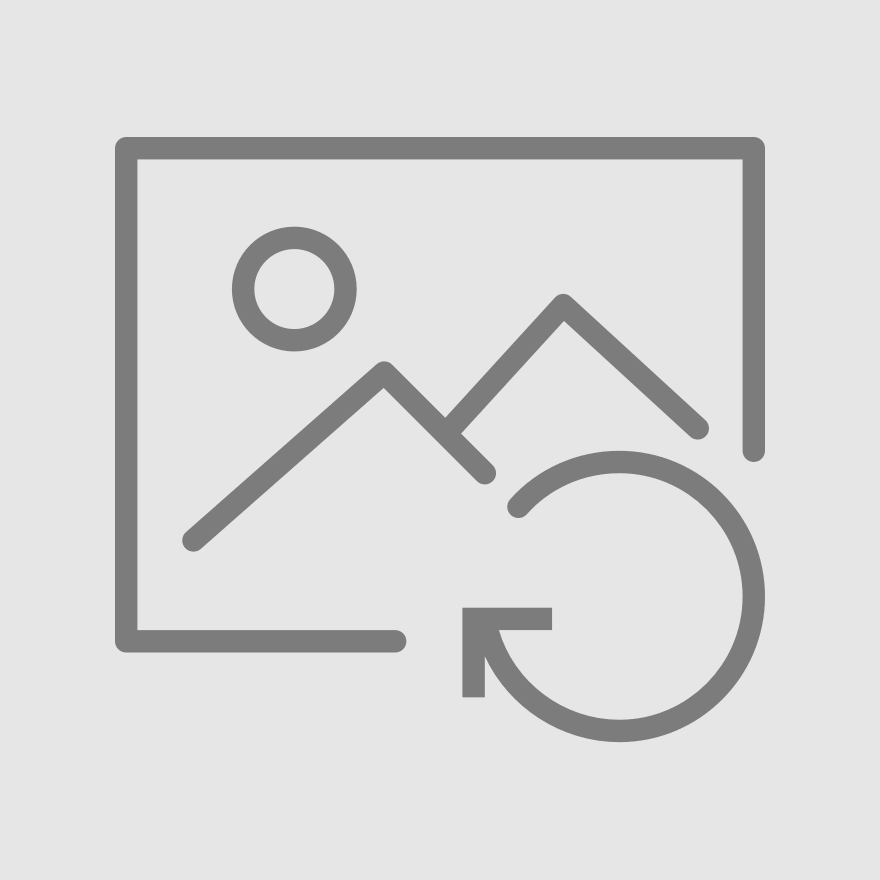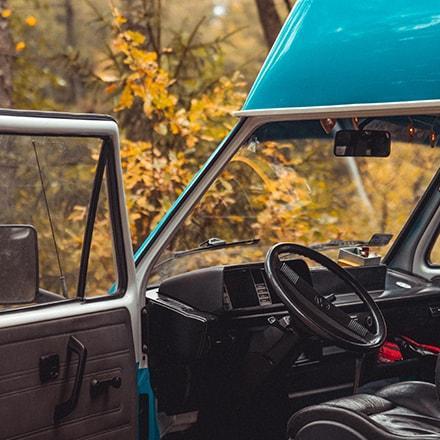 "We traveled with Freddy (the motorhome) through Mazovia, Pomerania, Mazury, Suwalki and he was incredibly brave. :) Very well equipped – a comfortable mattress, atmospheric lighting, burned very little fuel, everything is easy to use. It's like a small, cosy house on wheels. Perfect for exploring nature! I highly recommend it. :) "
According to the hosts:: Magda and Kuba recommend Podlasie and Kashubia for trips around Poland and advise avoiding highways. It is better to focus on smaller, local roads, the van has a high suspension so it will cope, besides van life is rather slow life, it can go up to 90 km/h, fast only downhill. And one more thing: if you are not sure if and where to stay in the forest, contact the forest ranger (until recently such overnight stays were illegal, fortunately, the State Forests responded to the need of campers and provided a list of forest areas on their official website where you can camp without getting a ticket).
Slowhop's review: The car is dropped off in Warsaw and the surrounding area for free. The minimum age of the driver is 21 years.
Do you know what the difference is between a big modern motorhome and a Kalait camper? The first one resembles a crude hotel, and the second is something like a cosy house in the mountains with a burning fireplace and aromatic coffee waiting on a small table. We know what we'd choose. Hipcio (Vw T3 Vanagon) and Kalait (Vw California Coast) were born out of Kasia and Łukasz's love for nature and bathing in the forest. The first one has character, remembers the times of hippies and bell-bottoms, the second one is much younger and entices travelers with its luxury and modern amenities. Both will accommodate a family of four and even a dog, provided that he sleeps with his family, not on an extra bed. Hipcio is perfect for summer travels in slow-motion, there is no toilet but it has a solar panel, a stove, a sink, a container for clean water, a quite roomy fridge, a photogenic exterior and you're guaranteed to receive greets from passers-by. Kalait will even withstand snowstorms because it has a parking heater so you can stay warm while you brazenly watch the blizzard through the windows. The camper also includes a shower, a very good audio system and durable batteries that will last for three days.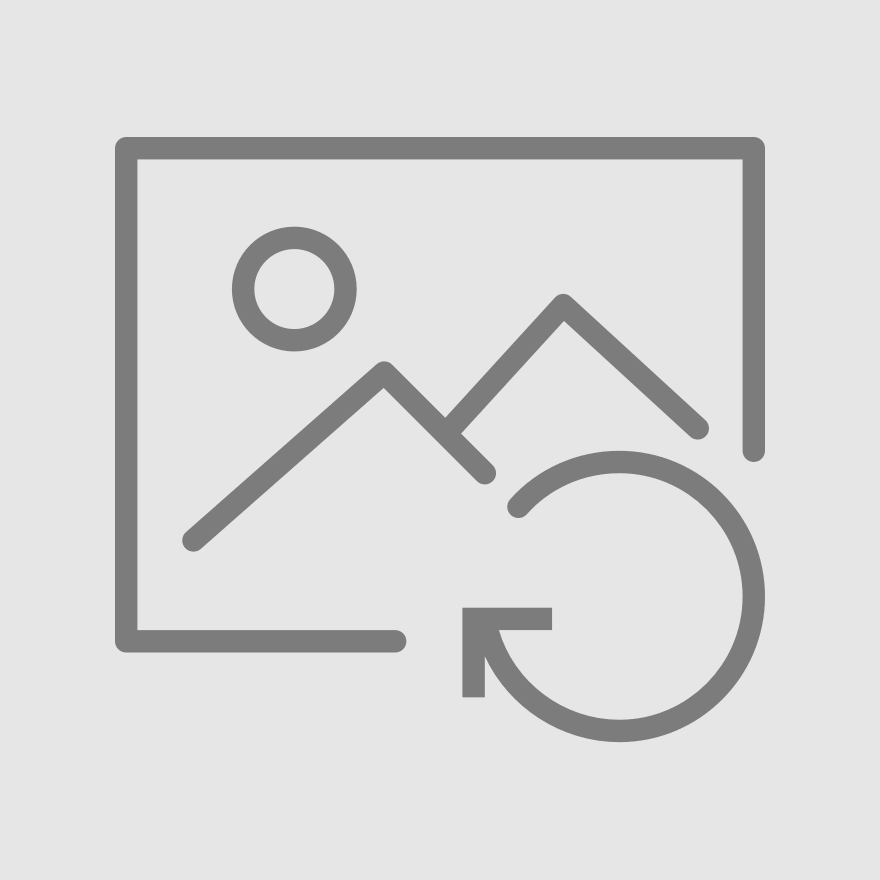 According to the hosts: The first and probably the strangest spot in which Kasia and Łukasz spent the night was the one at Mammoth Hill in Harrachov. In addition, they recommend stopping in Podlasie on the Bug (near Borsuków) and in Lower Silesia – in the Sowie or Stołowe Mountains (camping in Radków), and in Pomerania, there's a seasonal paid camping site in Łeba. Be sure to check out opinions and recommendations of places in the wild and camping sites using the park4night application.
Slowhop's review: The van is not equipped with bedding or sleeping bags, Kasia and Łukasz figured everyone prefers to sleep in their own so be sure to bring it yourself. The van can be dropped off in the area of Warsaw or picked up in Ursynów in Warsaw.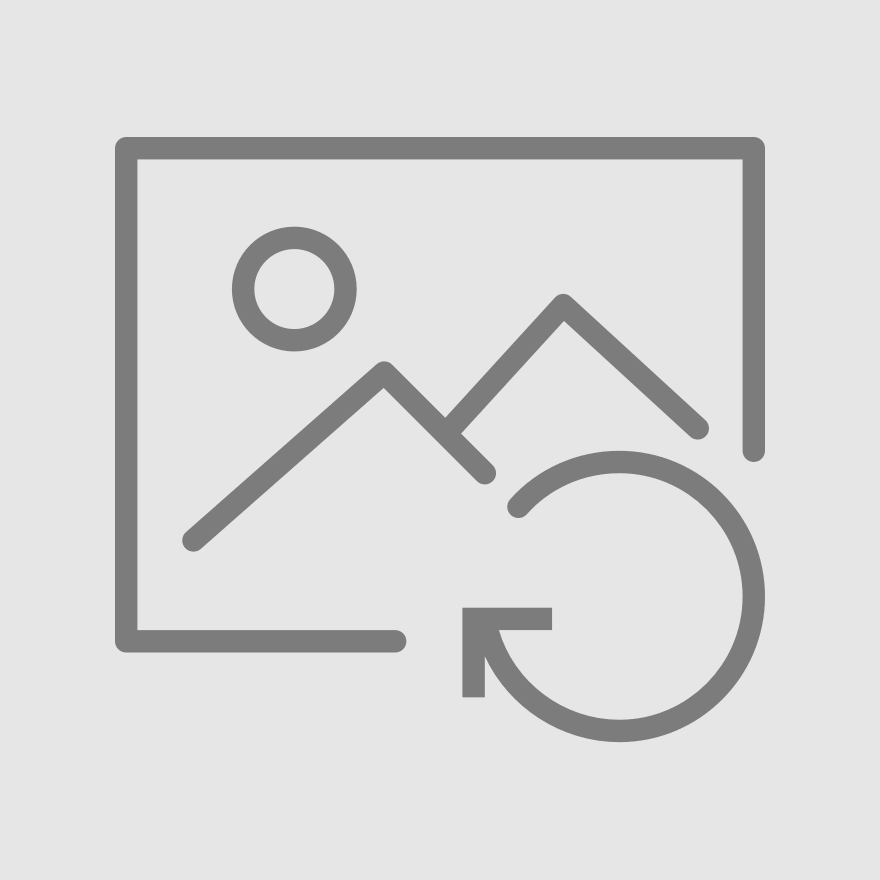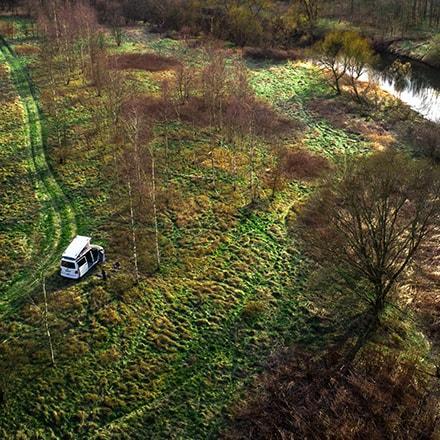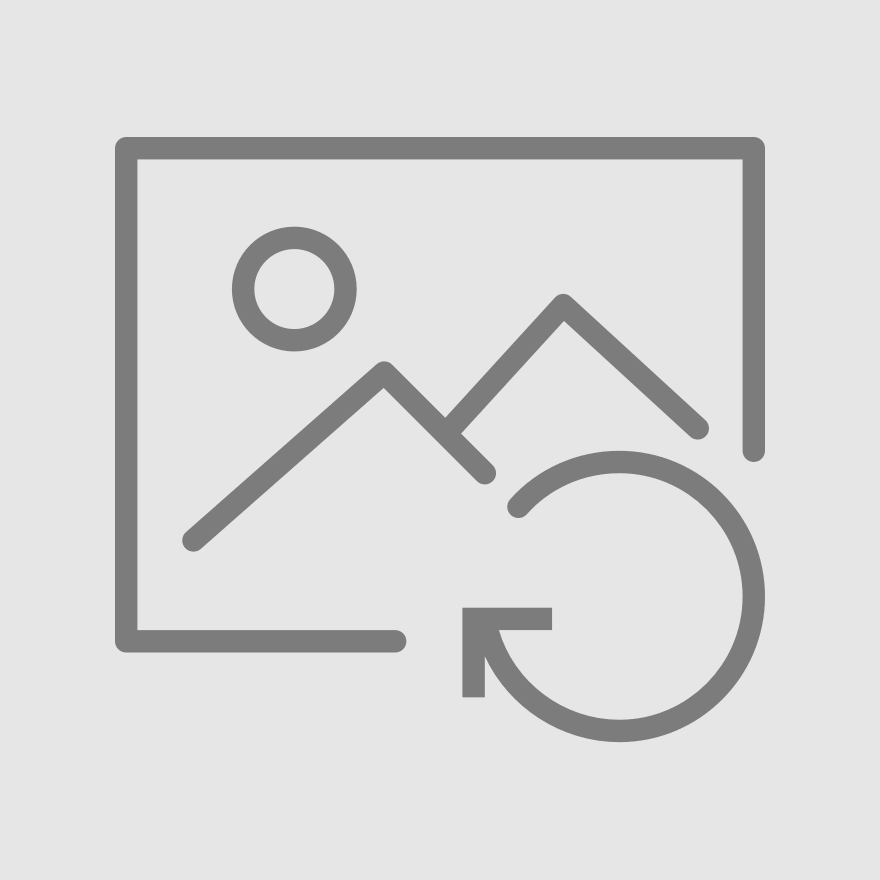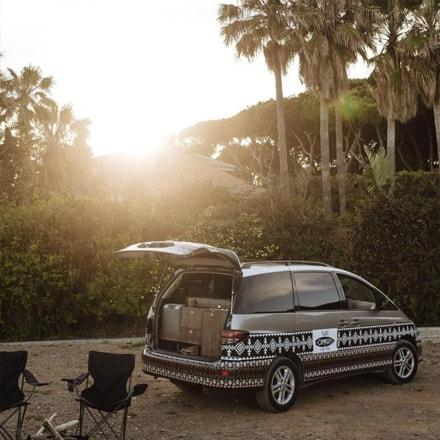 If you dream of a more distant journey, but you don't have enough vacation days to drive across Europe, then we have just the right people in Spain for you. Magda and Przemek will put the well-equipped camper in the hands of travelers wanting to drink Spanish wine, taste local tapas, wake up on the beach at sunrise and fall asleep on the cliff (not necessarily at sunset), go where the heart desires and explore Spain in their own way. You can travel in a cool, electrically independent motorhome with a sunroof that opens. It also has a shower, so you can bathe with a view of nature with a curtain (or without), and you can also rent various equipment: surfboards, SUPs, barbecues, hammocks, towels and even a Polaroid. Magda and Przemek will gladly take you into their motorhome family, and for all those willing to travel in a van in Spain they have secret, specially devised maps and routes for 7/10/14 days with pins of places where to sleep in the wild, recommended campsites, pubs, restaurants, attractions and even places for a drink. Thanks to their knowledge, you can explore the Algarve coast, discover the pearls of Andalusia, visit the best beaches on the Spanish coast, become a surfing champion, or (and we highly recommend) take a ride along the craziest route along the Faro-Lisbon ocean. In addition, if the need arises, they will help you create your own route, depending on what you fancy. Amazing people.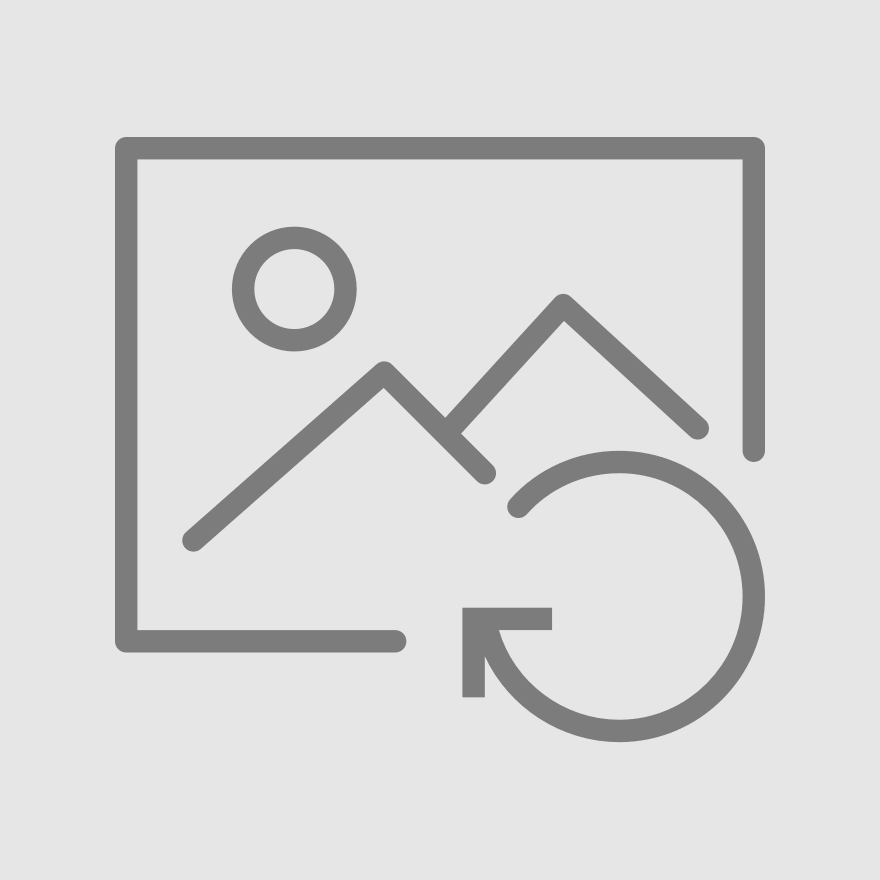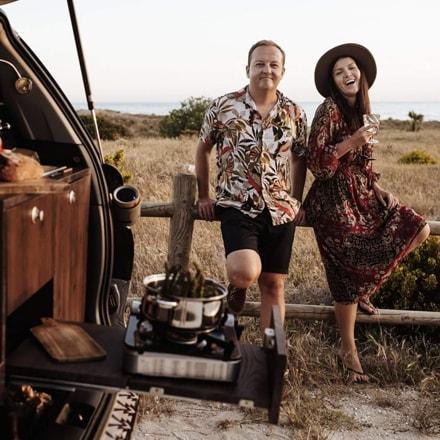 According to the hosts: Magda and Przemek recommend sleeping in the wild. In Spain, especially along the coast, local authorities designate special zones where you can easily camp without the risk of someone chasing you away. They'll provide you with their very own map of the best locations to check and they recommend downloading the park4night mobile application.
Slowhop's review: The camper has no toilet, but that's okay. The kitchen is well equipped so that you can safely make a Michelin star-rated meal. You can come with a child (one parent + child), but leave your dog at home – flying by plane may not be your pet's favourite moment in life. You can pick up your camper and drop it off in one of five locations in Spain: Malaga, Tarifa, Faro, Seville or Lisbon in Portugal.
The book is solid, weighs over a kilo and is the answer to "I'm fed up with the internet" or "I don't use the internet," or even "I can't look at the computer anymore." It goes well with a glass of wine and hot tea with cake and the photos and short texts tell the story of 160 places on Slowhop. It is beautifully published on ecological paper and is probably the only one in Poland about conscious travel. We recommend sending it to senior citizens because as it turns out, this book works well for them. But young people love it too!
-----> This way for the book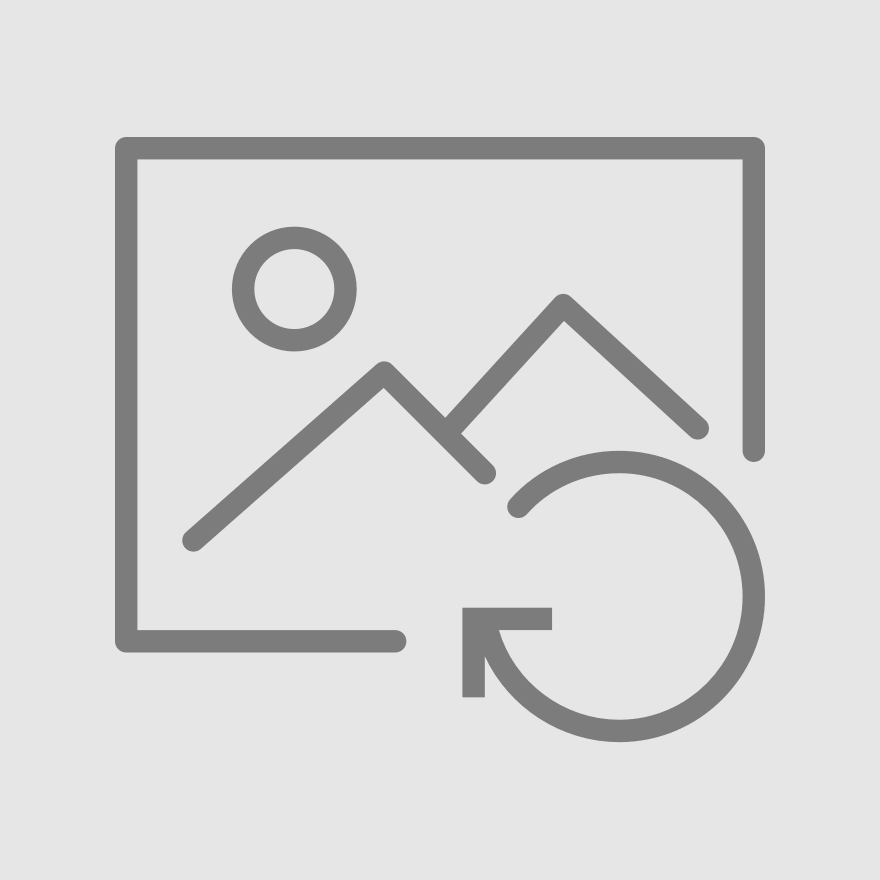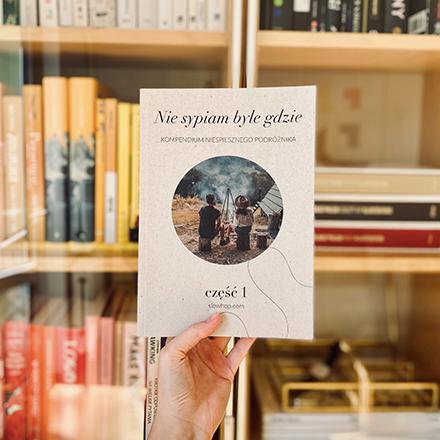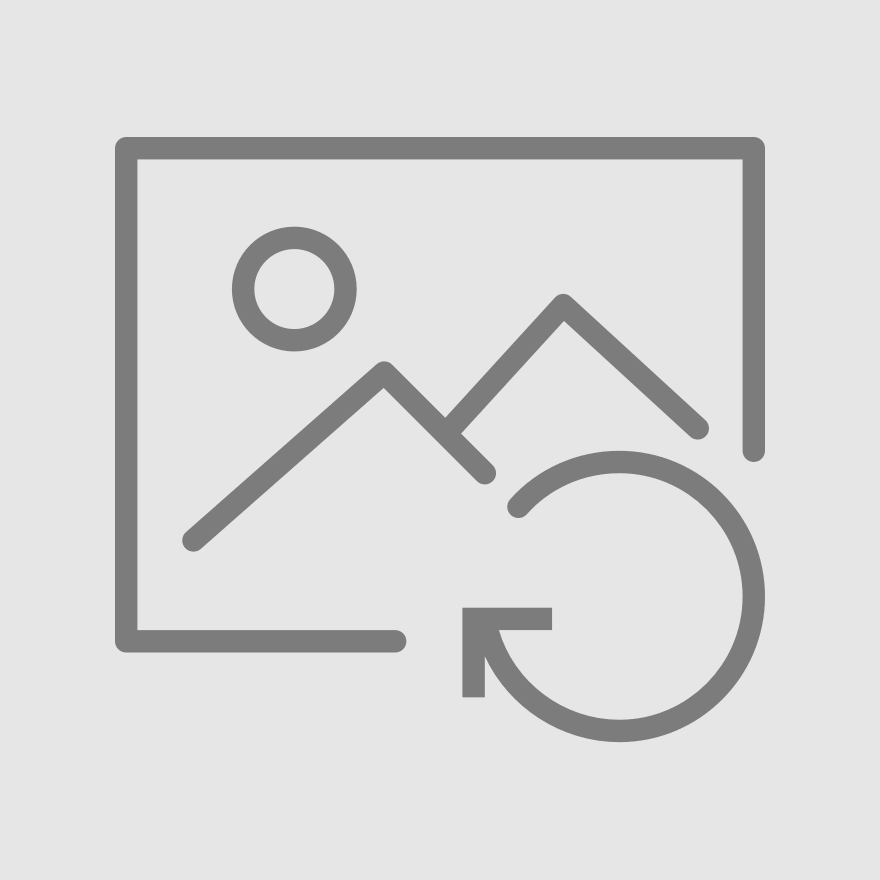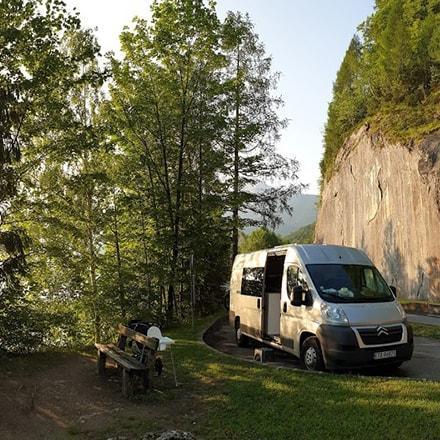 Kasia and Rafał are contemporary nomads from the south, travelers at heart, who explored places such as the Balkans, Norway, Thailand and Cambodia, Kyrgyzstan and northwestern China, Argentina and Chile, and Tanzania with just a tent, local transportation and on foot together. As a result of a growing family, inspired by the story created by film-maker Tony Halik, they decided to exchange the tent for a comfortable four-wheeled house, and so, 13 days after the birth of their first child, they became the owners of their very first car. Now they are ready to share it with all those who also value freedom and close contact with nature. And now pick up your jaw from the floor, because they really pimped out this ride. It has its own power supply from solar panels, hot water boiler, toilet, external shower, huge tanks for clean and grey water, a kitchenette with ceramics, table and chairs included, and even a blanket for lunch after a siesta. They also have an amazing blog, where they step by step describe the transformation of a truck into a comfortable house on wheels and their extraordinary adventure with caravans.
According to the hosts: Kasia and Rafał recommend Kashubia, Eastern Poland and Bieszczady for domestic trips, and Croatia, Greece, Slovenia or Austria for foreign travel. It is also worth visiting camprest.com, a website with a database of campsites in Poland and abroad.
Slowhop's review: In Vandalvan, two adults and two children can sleep comfortably, and an additional adult can also come along but would have to sleep in a tent, which Kasia and Rafał will gladly let you rent. You can take a dog or a cat for an extra cost. Driver must be at least 21 years old.
What else should you know?
Is this spot taken? Here are a few words about parking and sleeping in a motorhome.
When embarking on a trip with a camper van, it's a good idea to get acquainted with the parking rules of the country you'll be visiting. First of all, there is a legal difference between parking or stopping the vehicle, and camping i.e. unfolding the table and setting up a grill, awning and other trinkets in front of the house on wheels. According to EU guidelines, a motorhome is treated in the same way as a passenger car, so it can be parked in designated places without any problems.
Things are a bit different when it comes to actually doing what we want which is camping. Isn't that why we're bringing all this stuff with us? In addition to designated places, i.e. paid campsites (with a toilet, place to empty grey water tank and access to electricity), it is worth considering camping on private properties or in small agritourism (hosts often welcome such travelers). Scandinavia is the cheapest in terms of overnight camping, while the most expensive sites are in Italy, Spain and Croatia. However, please remember that the conditions of these foreign campsites often differ significantly from native ones and ... are much better. Parking in the wild is completely forbidden in Croatia and Switzerland, and you can get a hefty fine for breaking the parking ban. There are no restrictions in Norway, Romania, France, Spain and Poland (the last four require consent from the owner of the area where you park).